Finally, we have successfully presented Pokémon GO to the public.
I, Masuda, have received on Twitter a lot of pleasing messages from around the world, including:

"I'm very looking forward to trying it! I'm excited!"

"I want to go on an adventure right now!" and

"My childhood dream has come true."

People's support, among others, gives me power.

There is nothing more encouraging for me as a person engaged in making things for people. I am happy.

I sincerely appreciate support from you all!

While I am participating in the development of Pokémon GO for the construction of its world view and for its game design and music, we are trying to make it enjoyable as a location-based game by removing and dismantling the world view of Pokémon as well as common knowledge in game design, and rebuilding them into a new design.

There is still a long way to go in its development, but I'll go on making the best things with Niantic so that people around the globe can enjoy them.

We hope to exert continued efforts to make products enjoyable for all, including Pokémon fans and Ingress fans across the world, and even for those with no experience of playing with Pokémon.

Toward the 20th anniversary of Pokémon, we express our hearty thanks to all.

Pokémon GO is scheduled to be released for smartphones (on iOS/Android) in 2016.

We hope you'll like it!



Images from the presentation
http://www.pokemon.com/us/pokemon-news/news-from-the-pokemon-go-announcement/#

Video footage
Japan
https://www.youtube.com/watch?v=lKUwVYUKii4
United States
https://www.youtube.com/watch?v=2sj2iQyBTQs
España
https://www.youtube.com/user/PokemonOficialES
Italia
https://www.youtube.com/user/PokemonUfficiale
Deutschland  
https://www.youtube.com/user/Pokemonoffiziell
France
https://www.youtube.com/user/PokemonOfficielFR

Niantic,Inc.
http://www.nianticlabs.com/index.html

Media
http://www.gameinformer.com/b/news/archive/2015/09/10/reader-discussion-how-far-would-you-travel-to-catch-a-pokemon.aspx
http://www.eurogamer.net/articles/2015-09-10-gps-enabled-pokemon-go-app-announced
http://www.gamespot.com/articles/pokemon-go-announced-for-androidiphone/1100-6430435/
http://www.shacknews.com/article/91207/pokemon-go-is-a-new-mobile-game-from-the-creators-of-ingress
http://www.polygon.com/2015/9/10/9300011/pokemon-go-android-ios-smartphones-nintendo

October 31, it was the chestnut festival day in Spain!

On this day, we visited a school called
El Col-legi Lestonnac de Barcelona for a lecture.

Before a visit we were a little nervous, thinking what
we should do if the pupils knew nothing about Pokémon.
To our delight, however, they all knew about Pokémon
and they welcomed us cheerfully with big smiles!

They asked us a lot of questions eagerly, including:
"What did you like when you were children?",
"What did you want to be when you grew up?" or
"Why are you making Pokémon games?"

We answered their questions as best we could.
They were listening to us excitedly with twinkling eyes.
We were so impressed and felt happy!

Headmaster and teachers also were very kind to us.
They served traditional Catalan sweets.
They all said to us, "Come here next year again."

Children laughed, clapped their hands and became serious occasionally.
We appreciate their reactions very much.

The more I talked, the more I was filled with emotion.

I thought that it was really good to continue manufacturing goods.

Last of all, I said a few words of thanks and told them
"I want to  continue making good stuff!" Then,
I got a lot of applause.

I was so pleased that I almost cried.

Moreover, I was handed a wonderful gift by two representing pupils.

The gift was pictures of Pokémon drawn by all the four graders
in Classes A, B and C.
The subject was "Pokémon in Barcelona".
It thrilled me further! Truly, they were very good at drawing.

The gift contained about 60 pages and they were all lovely pictures.

I was really grateful to all the people in the school including
the children for giving us a wonderful opportunity!
We surely got a lot of power from this event.
El Col-legi Lestonnac de Barcelona was an excellent school.

This is the newspaper that reported on our visit to the school.
http://t.co/ybt2FtSw9Z

This is a video of TV broadcast that shows  our  visit  to  the  school.  It
starts about 42:55 on the image counter.
http://www.rtve.es/alacarta/videos/telediario/telediario-21-horas-31-10-14/2842522/


On November 1 and 2 we spent our time at Salon del Manga,
gathering information and participating in events.

First of all, we want to express our gratitude to
all the media including newspapers, TV stations and radio stations.
We surely bought the papers that reported on us, of course (laugh).



It was a little strange to us that the media consisted mainly of newspapers
and TV stations instead of gaming magazines which are dominant
in this  kind of event in Japan.

As expected, Salon del Manga also held these events.
I thank all of you for taking part in the cosplay
and the battle tournament.





This is the individual winner! Using the software game music,
she performed one-man play to warm up the event!


These three are the team winner! 
They expressed the beautiful view of the world!


These two got the special award!
They said they spent three months creating the costumes using card boards
and newspaper. It is exceptionally amazing!


This is the winner of the battle tournament!
To our surprise, he turned out to be the fourth place of Master Class
in Pokémon World Championships(WCS)  2014.
It was no wonder even Omori could not beat him.


Last of all, thank you very much for everyone who gathered at the site!
 



Now that I learned that everyone supported Pokémon
also in Spain more than I expected, 
I considered I should keep trying hard without just feelingthankful.
Now, I feel uplifted!

I express again my gratitude to everyone 
I met in Spain for your hospitality!

Chao!

What a wonderful achievement!

In Japan, we've already got the Greatest Award,
the Best Sales Award, and the Global Award at the Japan Game Awards.
This time we've got awards in England, too!

At the Golden Joystick Awards 2014,
the greatest game awards in England,
our Pokémon X and Pokémon Y were awarded
the Greatest Handheld Game Awards!

Those awards are the ones from the second oldest historic game awards
and chosen by users' votes.

We thank so many of you who played our games
and we really appreciate your support.

We are profoundly grateful for you.

Also, with those people who worked on the challenging development tasks
and the localization staff who realized the world-wide simultaneous release,
I'd like to share this great news
that we've been awarded such honorific awards!






Those awards could not be realized without your hard work!

Chao!

Saturday, October 12th 2013 was the day that my dream came true.
It was the day that Pokémon X and Pokémon Y launched
all across the world at the same time.
Launch events were held in France, New York, Germany, and Japan.
The whole world celebrated the day.
I feel very grateful.
Since the launch day is the same worldwide,
all players across the world can enjoy the game at the same time;
sharing the discovery and adventure together.
I'm happy to have achieved that task and delighted that
I could bring that experience to each and every one of you!
I'm full of appreciation.
This time, the themes of the game are 'beauty', 'bonds', and 'evolution'.
The game was developed with the aim that the player would
raise their Pokémon with love.
There's an even bigger theme to the game, however;
one that I'm always thinking about when I'm directing Pokémon games,
and one that I think applies to the real world:
'Let's create a better world together'.
The world is full of wonderful encounters that depend on the
circumstances we find ourselves in.
If you were born one year earlier, you may have made a set of
completely different friends.
If your tastes were different, you may have met different people.
Suppose, too, that your parents had never met…
If you think like this, you realize that everyone's life
depends on the chance encounters that they make.
Encountering people is both coincidental and miraculous.
We encountered each other in the same era, on the same planet.
That's a miracle.
These encounters shouldn't be about fighting,
but about making a better world together.
The titles 'X' and 'Y' come from this idea.
The letters 'X' and 'Y' suggest lines on an axis.
The lines of both letters head in different directions,
but there's a point at which they cross, or intersect.
I used the letters with the idea of intersection in mind;
the idea of the common points we share with one another, rather than our differences.
'Let's create a better world together!'
I developed this game to communicate this idea.
It took three and a half years to develop this game.
Taking into account the localization groups for each language,
more than five hundred people were involved in the development.
I deeply appreciate developing this game with all of these wonderful staff,
and I appreciate the miracle of the encounters that I had with them!
Please enjoy the game from many different directions!
See ya!
Check this out!
I appeared in "Ikimono-gakari" promotion video clip titled "Egao" ,("Smile").
*Ikimono-gakari is a famous Japanese band.
It was just amazing!!!
I had a opportunity to be a part of it, because of my
earlier appearance on "Ikimono-gakari's" radio show,
where I met Yoshiki Mizuno – writer and composer the song.
Encounting people is wonderful,
as it opens up new possibilities and experiences.
Early morning in Roppongi, on 9th of June 2013.
That day I had a flight to Los Angeles,
so I asked to have a recording as a first person.
I was sitting in the middle. Recording started.
I did all director asked me to, and…
"OK! Cut! It's done."
I thought we were just rehearsing,
but director said it was good.
All happened in a split second.
I had fun doing the recording.
Here is full video clip.
http://www.youtube.com/watch?v=hLBdm2J9UKA
*This video clip may be available in Japan only.
It was a great experience !
Thanks for inviting me, "Ikimono-gakari"
Official site of Ikimono-gakari.
http://ikimonogakari.com/
http://ikimonogakari.com/news/#i6026(I'm planning to attend the event, too.)
Ciao!
Today I'd like to talk a bit about this year's E3,
which took place in Los Angeles from the 11th of June.
I was asked by Satoru Iwata – Nintendo's President – to join the
"Developer Round Table" for a presentation and Q&A.
Until now, Japan used to be the first country to have a
new Pokémon game announced.
We were always releasing game in Japan before E3 was held,
and we had a chance to discuss it. This year was different.
I usually do not have much for the press during E3.
So it was great to be invited to the "Developer Round Table",
and prepare my presentation.
I arrived in Los Angeles on the 9th of June.
There is a 16 hour time gap between Japan and L.A.
After the 10 hour long flight, rehearsal started immediately.
The day after that we had another rehearsal.
And finally, the day came.
Here is a photo from the first day of rehearsal.
I hoped that the auditorium…
would be full of people.
It started!
There were a lot of press members gathered in the hall.
Wow!
It was full of people.
Thanks everybody!!
And action!
Tsunekazu Ishihara gave a speech that was about 20 minutes long,
and a 40 minute long presentation.
The presentation went well.
And then the time for Q&A had come.
From that point photography and recording were permitted.
Done!!
It was amazing.
About 200 companies and about 300 people came to see the presentation.
I really appreciated everyone's participation.
It was great to be there together with Shigeru Miyamoto,
Takashi Tezuka, and Eiji Aonuma of Nintendo, and Masahiro Sakurai from "Sora".
Thank you very much.
And this is how the E3 "developer Round Table" went for us.
Here's a video clip from the presentation.
It's about 5 minutes long.
http://www.youtube.com/watch?v=QiyZGAooB4k
http://www.youtube.com/watch?v=GrL3I38VO3o
And here is the information from Nintendo Direct.
http://www.nintendo.co.jp/nintendo_direct/20130611/index.html
Ciao!
For this game we spent lots of time and on localization
from Japanese to many other languages.
Thanks to our collaboration with various teams and
companies over a period of seven years,
we managed to achieve our dream.
To launch the game simultaneously worldwide.
Maybe that dream doesn't sound so difficult,
but because of the huge amount of text and names within the game,
it takes the creative co-operation of many, many people to achieve it.
All that text and all those names need to be translated into
English, French, Italian, Spanish, and Korean.
It's very demanding work, but I believe all those involved did a great job.
And because of that effort,
on Saturday, October 12th, 2013,
Pokémon X/Y will be launched at the same time everywhere.
It will be on the shelves in stores all across the world on the same day.
It is like, when you go fishing, and
can't identify you caught.
Checking on the web and still can't find out what is it.
It will be an incredibly exciting day.
I hope all the players across the world feel that excitement too.
Finally it will come true.
It is a big achievement.
On that day; October the 12th, 2013,
Pokémon will evolve into the next stage.
Please be there!
Ciao!
I experienced that unusual place for the first time!
I was nervous all the morning, before going there.
That place is…
Taadaa!!!
It was a radio recording studio, I visited!
Cool microphones!!
Big booth!!
Many people!!
I was all nervous waiting there with my heart pounding…
Inside, I met with a band named "Ikimono – gakari"
All members: Yoshiki Mizuno, Kiyoe Yoshioka, Hotaka Yamashita.
*They are very famous in Japan.
Their song titled "Egao" ("Smile") is a theme song for an upcoming this summer,
new Pokémon movie.
*Japanese title will be: " Shinsoku no Genesect Mewtwo Kakusei "
I was already totally nervous.
And then…
I became a special guest on "Ikimono – gakari" radio program called:
"Ikimono – gakari's Garden Party"
The recording started and our chat went very well.
Everyone was very kind, so I wasn't so nervous anymore.
Time passed really quickly in a nice atmosphere, and we finished.
With everyone's help, I will remember my first radio recording
as a very nice experience
We talked about music and Pokémon related themes.
If You wanna know more, please check it out.
I want to thank to all band members for a great time.
Ciao!
"Ikimono – gakari's Garden Party"
The episode I was invited to.
*Pokemon Official Site:
http://www.pokemon.co.jp/info/2013/05/130531_m01.html
Ikimono – gakari's official sight:
http://ikimonogakari.com/
Leader, Mr. Mizuno's twitter:
https://twitter.com/mizunoyoshiki
Hello everyone!
Have you had a chance to play "Pokémon Dream Radar"?
You can get? it as downloadable software for your 3DS
"Pokémon Black 2/White 2.
For the first Time!!
Here is one page of the presentation,
with a drawing by game director Takao Unno!
↓↓↓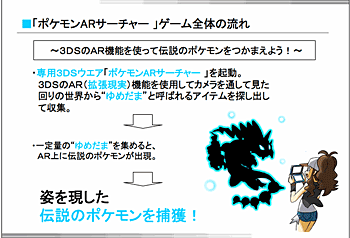 ※■"Pokémon Dream Radar" Game flow
※ Catch the legendary Pokemon using 3DS AR function!?
※・Activate exclusive 3DS software "Pokémon Dream Radar."
※ Use AR (expanded reality) function with camera.
※ Find "Dream Orbs" surrounding you, and collect them.
※↓
※・If you collect certain amount of "Dream Orbs,"
※ legendary Pokémon will appear on AR monitor.
※↓
※When legendary Pokémon will show up, catch him !
In this game player doesn't catch Pokémon with Poke Balls,
but by using Gyro function of 3DS, and repeatedly pressing a button.
Takao drew the illustration to help understand the concept.
The idea is very different to the one in original, RPG style Pokémon games.
The priority was, to make player feel good, having dynamic controls.
Like playing tennis, for example.
The most important thing is to use the racket skillfully.
To improve your own skill, you can challenge progressively more skillful opponents.
The type and length of play will depend on who your opponent is.
It's important to proceed with programming in a smooth manner,
and make a game with no delays.
We also need to produce the game's visuals in a smooth and timely fashion, too.
What's the best way to develop a game?
We considered these questions and used our conclusions
to produce the game "Pokémon Dream Radar"!!!
If you haven't had a chance to play the game,
please give it a go!
http://www.pokemon.co.jp/ex/ar_searcher/
http://www.nintendo.co.jp/3ds/eshop/ncgj/index.html

http://www.pokemon.com/us/pokemon-video-games/pokemon-dream-radar/
http://www.nintendo.com/games/detail/LkW-geugqTdlGWQVECuUyjU0RaWX7t1x
Ciao!
For the first time ever!
Because Pokémon originates from Japan,
since Red/Blue in 1996,
we have been releasing information in Japan first.
But this time everything changes.
Pokémon X/Y will be launched at a same time, worldwide!
As announced on January 9th, on "Pokémon.com"
- international Pokemon website,
legendary Pokémon names will be same worldwide.
"XERNEAS" "YVELTAL"
Pronunciation for names in Japanese is:
"Zeruneasu"
"Iberutaru"
And in English it is:
"ZURR-nee-us"
"ee-VELL-tall"
You might wonder why this information is
not available on the Japanese official homepage.
Frankly. This is the first time in a history,
while fans from abroad are getting news faster, than fans in Japan.
In a way, simultaneous game launch,
became a special event for our fans from abroad.
So, everyone who just saw the new legendary Pokemon names:
"XERNEAS" "YVELTAL",
congratulations !
You are the very first in the world!!!
Ciao!
http://www.pokemon.com/pokemonxy/en-us
http://www.pokemon.co.jp/ex/xy/legend/