Going to E3 convention center.
There is a tank at the entrance! =)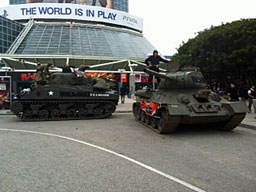 After checking major booth,
let's check peripheral items.
Strangely, I love these staffs.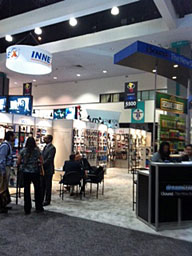 Wow, I want this for my home! =)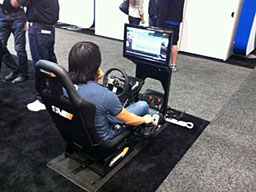 Wooow! Its Lamborghini!!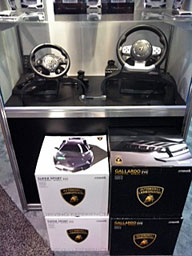 There are lots of my lovable Lamborghini…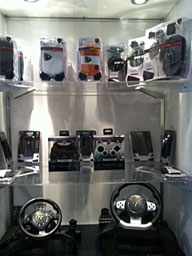 Seat, too!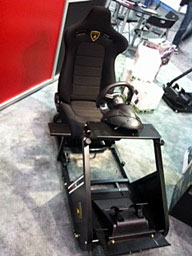 Super… It's just incredible!
In another booth, there is a dome screen.
180 degree world expands!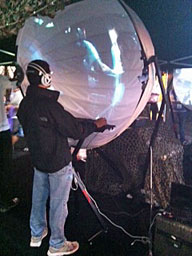 This one is cool, too.
Surprising! Racing game using three monitors.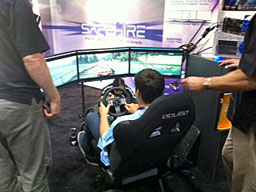 Here's another one.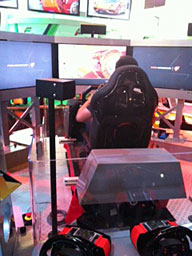 Oh, here is another.
Why don't you get one?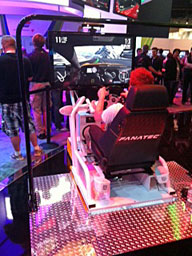 And…
Yes, here it is! PS Vita!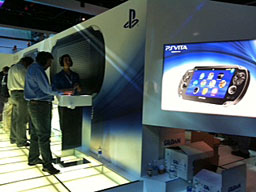 I want to develop fun game…
Atari, the world first commercial video game starter in 1972.
There are few cabinet consoles.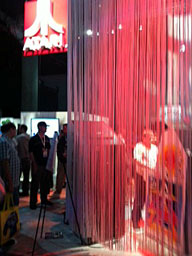 Flying carp!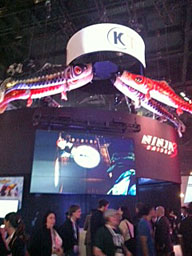 What a macho! I'm afraid I can't win against him.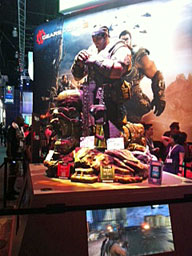 Scary!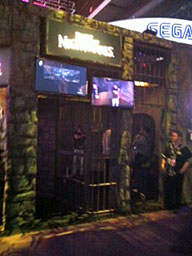 Event facilities, scary.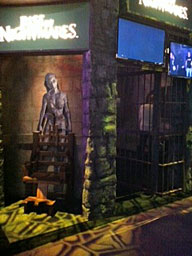 Tons of video games.
There a lot of point worthy of note.
Many parts to study.
It was stimulating.
Many companies are working hard together
to bring us a new technology of future.
I left E3 convention center with above thought.
Well, video game is the ultimate entertainment!!
See you!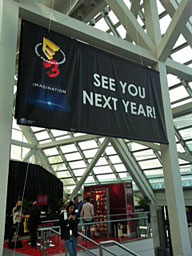 Ciao!!
Reporting E3′s atmosphere from LA!
Today, it started from Nintendo's conference!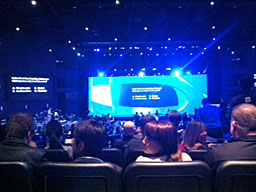 Location is Nokia theater.
Music is live orchestra!! Just wonderful!!!
Mr. Iwata, Reggie, Mr. Miyamoto appeared
on the stage.
Pokédex 3D have introduced!
Please download to your Nintendo 3DS!!
And…
New game machine, "Wii U"
have announced!
Well, it is very unique controller!
There are applause when the Wii U controller is used.
Most big exultation was given to the demo of
Golf game.
It was surely new! Wonderful and interesting!
E3 starts from afternoon of today.
(Taking a photo from the same spot)
To the right. West side.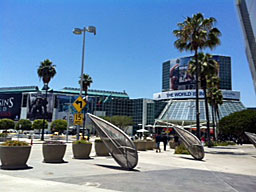 To the left.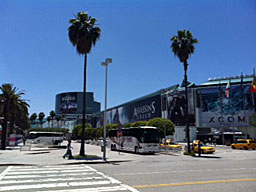 It's LA! What a scale! It's just huge!!
And… Tank is placed at the entrance!!!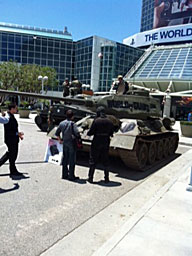 This tank is for game's advertisement.
Just wow…
Inside of the building.
There is a banner of E3.
See, there are three Es.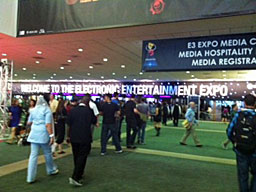 Heading to the Nintendo booth!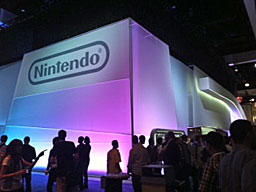 Here is inside.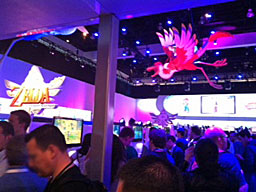 I searched for Wii U!!
And the girl with berry tatoo is holding
Wii U controller!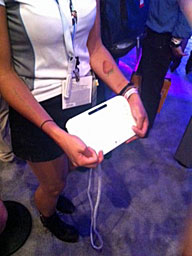 Here's a Wii U.
Console is buried on the wall can be seen.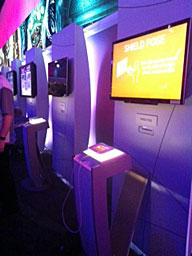 I checked other booth, too.
Each and individual booth is very unique
based on there theme.
Sony expand their booth with two-story.
Where is "PS Vita"!?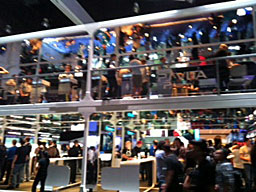 There's light of pink and blue… It's "Move"!
Everybody is playing the game as if they were at home.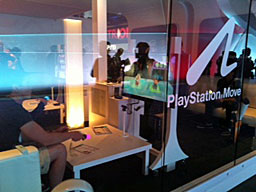 Capcom booth is also crowded.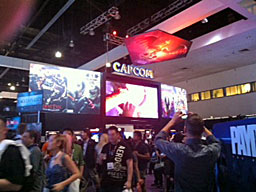 Here's Konami.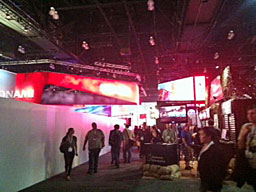 Light of the booth is rather dark for
eyes of Japanese.
Usage of light and shadow are outstanding.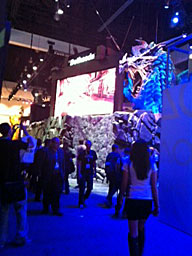 E3 of this year ran high!!
Massive volume of music!!
E3 have a tendency of sports games,
RPG games etc. so on based on a year.
This year, FPS war games were trend!!
A lot of splatter scenes!!
Blood spread everywhere.
Shooting a lot, killing a lot.
The game developer seems get used to
"kill" the target.
Therefore, I felt "how to kill" became a focus
of developing game.
For that reason, target become
zombie and alien…
These targets' savage attack and
human counterattacks…
It became savage contents and
you never know.
Mmm…
It is the player who choose the game to play.
As a game creator, it is little sad!
Majority of the games look like a same game.
There were little of original games.
I felt a sense of crisis with above part.
I'm going to E3 show tomorrow again
and check out more games!
See ya.
On Monday June 6th, I took N'EX train to depart Tokyo!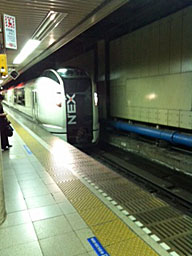 Look at the face of this train.
What a powerful face.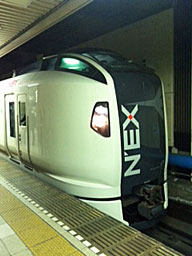 Sooo cool…
The reason why I took N'EX train is,
yes, I'm heading to E3 show at Los Angeles!
First, taking N'EX train from Tokyo to
Narita. Approximately one hour.
And riding airplane departing on the evening
from Narita and its took ten hour flight.
There is a 16 hour lag between
Japan and LA. Arriving at LA on the
morning 11 o'clock of June 6th.
(Including daylight saving time)
Repeating June 6th once again =)
One step out from the airport, it's LA!
Air, humidity, and smell is completely
different!!
Riding on a cab on the way to hotel!
I took the picture of LA from cab =)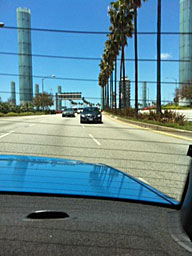 Road is wide! And it's free!!
(But bumpy! Only little rain and small budget?)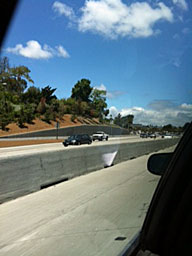 Finally arrived at the hotel!
This is a view from my room!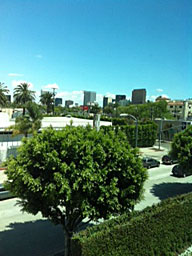 I'm very sleepy…
but heading towards to Santa Monica!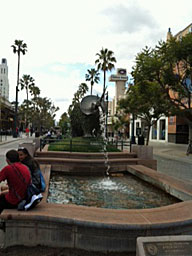 It's ocean!!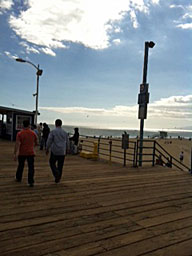 It's ocean!!! Ocean and sky are just huge!!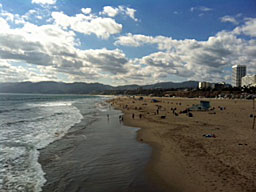 Theme park at Santa Monica!
Ferris wheel rotates very quickly!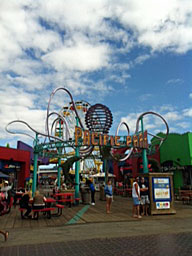 There are arcade, game center too!
Mainly the games were hunting games!!
(I guess the reason of the difference of games
from US to Japan is based on
hunting people and agricultural people.)
Going to seafood restaurant after above.
After I got stuffed, I became extremely sleepy…
There's a lot of difference between
Japan and LA.
It is possible to check and search miscellaneous things
by using internet.
However it is a privilege for traveler who actually can
hear, vision, taste, feel and smell
those five senses.
Trip abroad a lot! While you are young!!
Ciao!
On the afternoon of Saturday June 4th,
Again, I visited recording studio for recording session of
Pokémon movie!
Today is very sunny day!
Roppongi Hills(Tokyo) can be seen under the
glittering sun!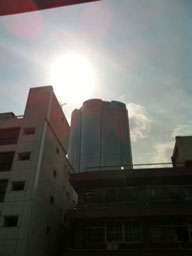 Studio locates on the second floor.
Sunshine is pretty comfortable!!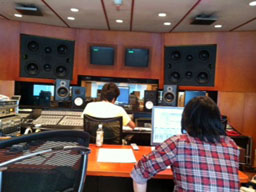 These instrument make me dazzle.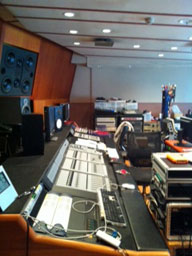 It was cozy and work effective studio!
See ya!
To all of you, I have a special information to share with you!
Riding on Ginza metro and get off
at Aoyama Ichome station(Tokyo).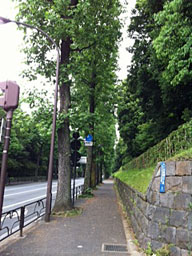 There will be a Meijikinenkan (Hall).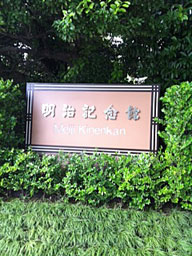 Yes, it is a AMD(Association of Media in Digital) Award '10.
Pokémon Black/White have selected as one of
"The AMD Award."
Not only that, we received "The AMD Chairman Award"
as well!!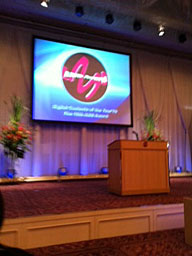 It is a great honor to receive the award among
movies, visuals, softwares, internet and AKB48.
I feel grateful to accept "The AMD Chairman Award" and
"The Governor Award."
I received these two award on behalf of
our Game Freak staff.
All developer staffs of Game Freak, you did an excellent job!
Congratulations!
And of course, because of your support made this
result.
Thank you very very much!
I'm sitting third from the left side in a front row.
My eyes look scary…
http://headlines.yahoo.co.jp/hl?a=20110531-00000060-impress-inet
http://www.famitsu.com/news/201105/31044403.html
Ciao!