GameFreak's summer vacation starts
from tomorrow.
I'll go to Hawaii for WCS from 12th to 18th!
*WCS = Pokemon World Championships
Which country will be the champ?
You can check the contents from this site.
http://www.pokemonworldchampionships.com/2010/

Ciao!
It is hard for me to create the Pokemon music
while directing the game.
However since battle music tune has my uniqueness
I write battle music this time, too.
Music at the field and town are created
individually on purpose compared to
the previous series.
Therefore, I want Pokemon battle music's
core part to be remained.
Which sound like a typical Pokemon music.
I believe this battle music sounds similar to the
atmosphere of Pokemon Red/Green.
(Blue in other countries.)
And this time, I write the music of
beginning part.
Yes, the music which professor is explaining
Pokemon.
Also, I write title demo music, too.
This is an arrangement from Pokemon Red/Green.
(Blue in other countries.)
It's very tough to write a music,
but it's very fun.
See ya!
Tuesday August 3rd, I got an interview
about Black/White for the first time!
Believe it or not, an interview was held with
AKB48′s Ms. Kitahara and Ms. Sashihara!
*"AKB48″ is the most popular idol group in Japan.
Interview was held at GameFreak's office.
Taking photo with these ladies made me tense.
Everybody become tense with this situation!!
Not only they are cute, but I found out
they are Pokemon maniacs! I'm surprised!
Their conversations are seriously deep.
It was very fun interview and please count
on for the article!
Please check "Pokemon Pia (available on September 10th)" for
my nervous face and fun interview article.
See ya!
*"Pokemon Pia" is available only in Japan.
Here is the blog of two ladies.
You can check out their contents.
Official blog of Ms. Rie Kitahara "Sanji no oyatsu"
http://ameblo.jp/kitahara-rie/entry-10609653756.html
Official blog of Ms. Rino Sashihara "Sashihara quality"
http://ameblo.jp/sashihara-rino/entry-10609435064.html
*Both blog are written in Japanese.
In this Pokemon Black/White,
only new Pokemon appears
till the ending.
Only new Pokemon appears!
Reason why we come up with this conclusion is,
we wanted every player to stands on a same line
when they start the game. From Kids to adults.
Also, every encounter of Pokemon would be fresh
like player experienced in Pokemon Red and Green.
The impression of the people outside of the office are…
"It's fresh to encounter new Pokemon every time"
"Hard to find Pokemon's type. Also their moves, too"
"Feels like playing brand new game like Pokemon Red/Green"
And so on… All impression were favorable.
Designing Pokemon are very hard work…
But our graphic staffs are saying
"It is our pleasure if players enjoy the game".
Please play the game!!
See ya!
★Saturday, July 31st is the day of
starting reservation of Pokemon Black/White!!
This morning, I went Ibaraki to visit my dearest
cousin which I haven't meet 30 years.
After that, I get back to work.
Then I visited Pokemon Center Tokyo for reservation
before they close the shop.
It's been a years since I made a last reservation
and standing in the line.
I also stand in the line and reserved two each
Pokemon Black/White.
★Sunday August 1st, at Roppongi Hills.
I visited the event of Pokemon Searcher Black/White.
Rikaco-san, Ms. Mifune, Ms. Kiza appeared
on the stage as Poke Moms.
Very fun talk can be heard.
And Pokemon Searcher Black/White,
it was just fun.
I rode on it two times!
It's not just a bus!!
It's not just sample play!!
Sound is awesome!!
I want everybody to experience this event!!
http://www.pokemon.co.jp/event/about/searcher/?f001=flash
News of event.
http://headlines.yahoo.co.jp/hl?a=20100801-00000012-mantan-game
http://news.biglobe.ne.jp/entertainment/519/mai_100801_5190289954.html
http://www.famitsu.com/game/news/1238350_1124.html
Here is a special movie!
http://www.pokemon-sp.jp/series/bw/

See ya!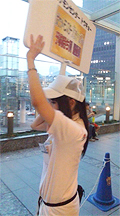 Pokemon lady looks tired!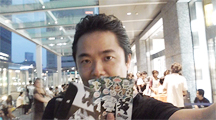 Reservation completed and received stickers!!
Thanks for making reservation!!!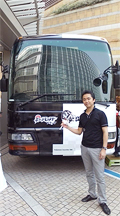 This is a Pokemon Searcher Black/White.
Looks like bus, isn't it? I want to drive!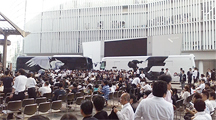 Please observe carefully. There are two Pokemon Searcher!
It's just huge! These bus can be seen on the road
if you are lucky!