Thank you very much, everyone!!!
With your support, Pokemon Black/White
sold 2.55million copies on the first week!
This is DS's game record!
Reserved number was 1.88 million copies!
Thank you very much!!
I hope you'll enjoy the game!
Ciao!
*Pokemon Black/White is launched only in Japan.
Finally at last,
tomorrow will be the day!
We spent four years for creating
Pokemon Black/White with great care.
I feel it was long time and also,
short time.
This time, region's image is New York.
Did you know that?
Take a look for a moment for header of
this column's back ground picture.
Yes, it's NY!!
There's Brooklyn Bridge on the right.
I've been there twice and it was stimulating fun city.
I feel nostalgic…
Entire GameFreak put full effort on this project.
We are proudly present our game.
I hope you enjoy this game.
Ciao!
Two more days!!
Clock is ticking!!
http://www.pokemon.co.jp/
31hrs 25min 57sec to go.
I become tense…
Last night, I had a dream which nobody
is buying…
No no,
Cheer up!
Story of Pokemon Black/White is disclosed
on Nintendo's website called "Shacho ga kiku."
http://www.nintendo.co.jp/ds/irbj/index.html
I talked deeply to Mr. Iwata's question.
*"Shacho ga kiku" is interview from Nintendo's
president, Mr. Iwata.
On Saturday Septemver 18th,
Pokemon Black/White have launched!!
Odaiba's McDonald changes into
"Pokemon Black/White MacDonald"!
I'm going to see this change first thing in the morning.
http://www.mcd-holdings.co.jp/news/2010/promotion/promo0914b.html
*Odaiba is one of the major city in Tokyo.
In Pokemon Center Tokyo, new goods are available!
I'll go to Pokemon Center Tokyo for reserved my Black/White.
http://www.pokemon.co.jp/info/2010/08/p100813_01.html
On Thursday September 23rd, event will be held at
Roppongi Hills.
It's Pokemon festival! Best Wishes
http://www.tv-tokyo.co.jp/anime/pokemon_bw/

Click here??
http://www.tv-tokyo.co.jp/
Pokemon searcher Black/White is coming!
Whoever not experienced before, plase give it a try!
Special movie playing!
http://www.pokemon.co.jp/event/about/searcher/index.html?a001=main
It's getting exciting!!
Please enjoy Pokemon Black/White not only
the information but event, too!!
Ciao!
"Pokemon Pia" have launched today!!
-AKB48′s Ms. Sashihara and Ms. Kitahara are on pages!
-Yellow Pikachu is on the cover page!
-It comes with Pikachu ear phone!
-GameFreak's graphic staffs interview
starring Sugimori!
-My interview, too!
History of Pokemon can be learned from this magazine.
It is really well made!
Please take a look and buy it!!
And…
Day after tomorrow on Sunday September 12th.
I'll have a special appearance on "Pokemon Sunday"!
Latest information will the disclosed!
Please take a look!
Ciao!
*"Pokemon Pia" is sold in Japan only.
*"Pokemon Sunday" is aired in Japan only.
■Today is summertime photo special!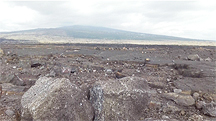 Pokemon World Championships (WCS)
was held at Hawaii island!
The event was held from August 13th thru 15th
and it was very excited!
The lava of Hawaii looked like live animal…
Everywhere is block lava!
I heard there's two different kind of lava exist.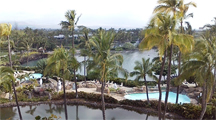 View from Hilton hotel!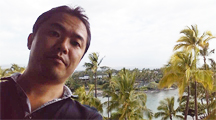 Humidity is low compared to Japan!
Feels great!
I really want to swim!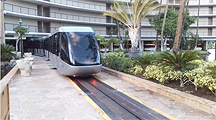 Using this tram for transport
between hotels.
It moves very slow though…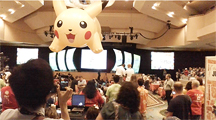 Here is WCS site.
Giant Pikachu is floating!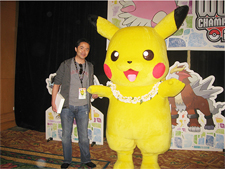 Taking picture with long legged Pikachu!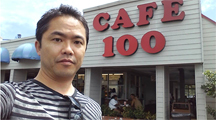 While I have a time, I travel around the
Hawaii island.
Locomoco was invented in the city named Hilo.
It was very cheap and very tasty!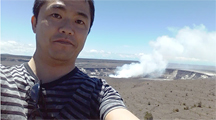 An active volcano Kilauea!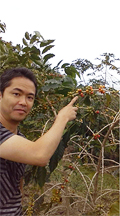 This is first time I see.
The actual coffee beans.
Green coffee beans comes out
if you peel off this red skins.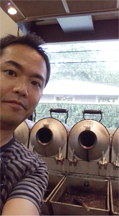 This machine roast beans!!
It looked really interesting!
I would make a coffee roasting game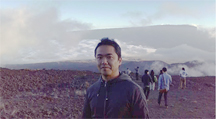 Climbing Mt. Mauna Kea at 2800m!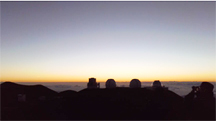 Finally reached to 4200m, it is higher than Mt. Fuji!!
It's freezing!!
The four objects in the picture is space observatory.
One on the far left is Japan's "Subaru".
Hawaii island can be observed by these observatory.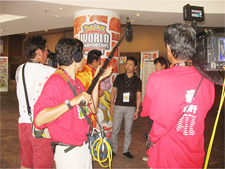 WCS site again.
Me and Morimoto is having an interview.
It will be aired on September 5th in
"Pokemon Sunday".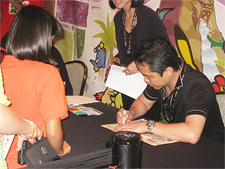 An autograph session.
So many people visited for autograph!
Thank you very much!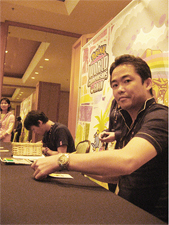 Huh? I 'm signing neatly.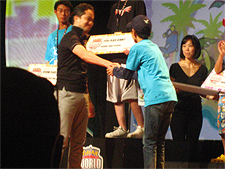 Shaking hands with World Champ of Junior class.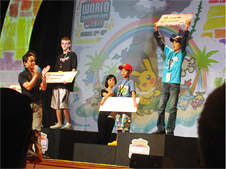 All Pokemon battle were high level and
exciting! Thank you very much!!
Who and what country become champ!?
In TCG(Trading Card Game), girl become a champ for the first time!
Please check here for detail.
http://www.pokemonworldchampionships.com/2010/
I hope you can feel the heat watching this video (ViDeOS).
I really want to make this video game championship
more and more exciting.
And… returning to Japan.
On August 19th, I've visited the TV studio
for "Pokemon Sunday"recording.
I talked a lot about Pokemon Black/White.
It will be aired on September 12th!
Please check it out!!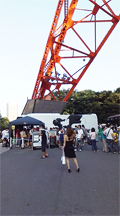 On August 22nd, I went to
Tokyo Tower for experiencing
Pokemon searcher Black/White!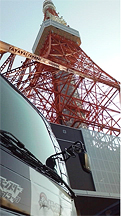 I asked "Does adult OK to play?"
I enjoyed three times in total.
Well, it is well made.
It is extremely fun attraction even for adult players.
And…
August 28th, I did the work of Pokemon Black/White
music recording in early morning then…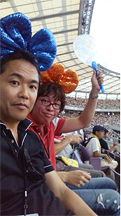 I visited music event called "a-nation"!
which 50,000 people crowd.
Picture on the left is myself, and right is Mr. Koga
from Pokemon Company.
*Small dots in rear is all audience!!
Ami Suzuki, AAA, Ayumi Hamazaki… it was very exciting.
Tohoshinki(TVXQ), I reconfirmed their popularity…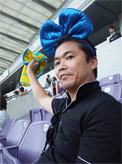 Shaking towel and enjoying the concert!!!!!
Towel… gosh, it is very fun.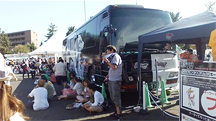 Pokemon searcher Black/White
came to the site!!
My summer goes like above…
And today, from September 1st, I'll visit
Seattle and London for business trip.
Ciao!
*"Pokemon Sunday" is aired only in Japan.