Launch date of "Pocket Monsters Black/White"
have finally decided!
It's Saturday September 18th, 2010!
The information disclosed in "Pokemon Sunday(aired on 27th)"
and "Oha Sta(aired on 28th)"
Especially in "Oha Sta", video footage of "Black/White" aired
for the first time!
As a director of the game, it would be a self-praise,
but this game is the most interesting compared to
previous series!
From kids of elementary school, junior high, high school,
college and even adult player can enjoy this game.
We've changed the way of development and
aimed for all generations.
Pokemon goes to a new dimension.
Please count on!!
Ciao!
http://www.pokemon-sp.jp/series/bw/
*Launch date of Pokemon Black/White is
decided only in Japan.
*TV show "Pokemon Sunday" and "Oha Sta"
are only aired in Japan.
Under the bright sunshine like mid-summer,
I've visited "Jisedai(Next Generation) World Hobby Fair".
Since the pavilion are separated into "Game & Hobby"
and "Goods Shop", less spectators visited compared
to last year.
Nevertheless, both pavilions were extremely
crowded! What a fever!
Stage of Pokemon corner was excited, too!
Actual size of "Reshiram" and "Zekrom"
were displayed and I got agitated!
I got portrait of "Pokemon Black/White"!
It's super cool!
Pokemon will launch not only the movie
but game, too!!
Please count on us!
See ya.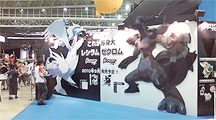 Both of them are little big for Pokemon!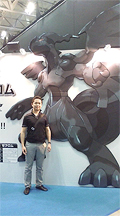 Me and Zekrom! I want ride on it!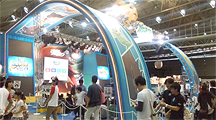 Pokemon stage. Exciting!